Dominic Matteo played for Liverpool for seven seasons, progressing through the youth ranks and into the first-team at 18-years-old.
The defender-cum-midfielder made 155 appearances in all competitions for the Reds during that period, before leaving to join Leeds in August 2000.
However, conflicting records suggest that Matteo only scored one goal during his seven senior campaigns at the club, while others have attributed two goals to his name - the first a header against Southampton in 1999, the second in the FA Cup third round against Huddersfield.
When FourFourTwo asked him what the correct number was, though, he laughed, unable to actually give an answer.
"Good question, but I've had brain surgery, so how the heck should I know? 
"Let's give me the benefit of the doubt and say two goals, shall we? 
"The bizarre thing is that despite not scoring many goals, I do have two in the Champions League because I also netted against Besiktas. It was a privilege to score against Milan in such an iconic stadium. The Leeds fans were on fire that night."
Indeed, just months after arriving at Leeds, Matteo had scored twice in the Champions League group stages for the club, in a 6-0 home win against Besiktas and then at the San Siro during a 1-1 draw with the Italian giants. 
However, Matteo had his first brain tumour diagnosis in 2019, with the memory of his playing career having deteriorated since retiring at Stoke City in 2009.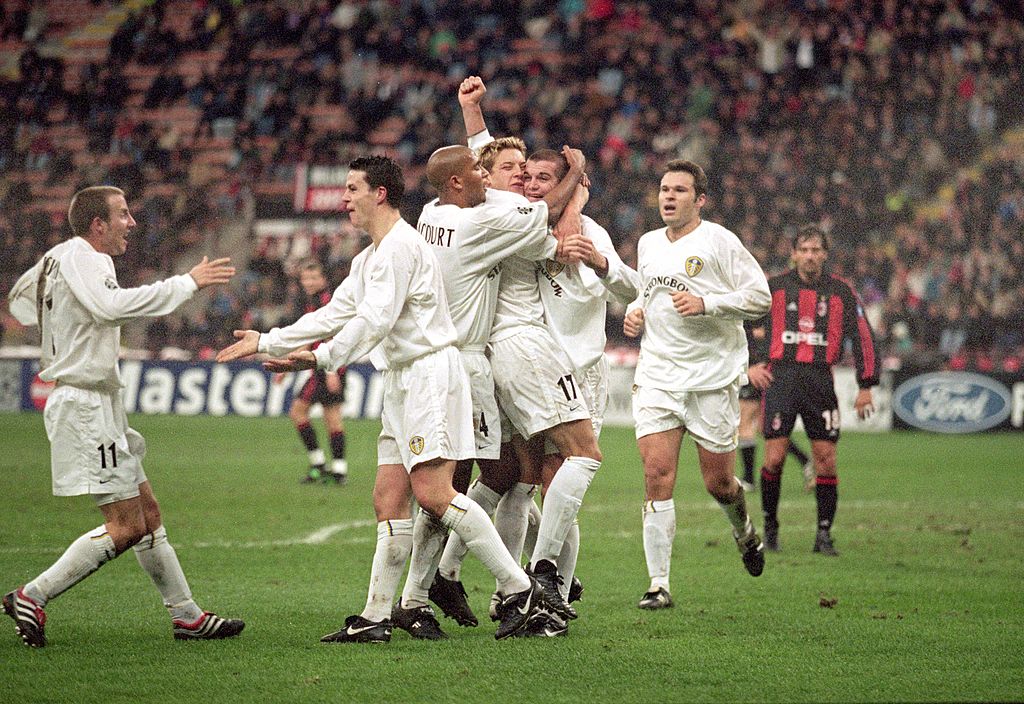 He explains to FFT the reason why he ended up going for a brain scan, and, despite having been cleared of the tumour, how he will always have to live with the possibility of developing another one. 
"I'd been working as a pundit and suddenly my eyes began to play up, so I had them tested," Matteo explains. "They were all right: 20-20 vision. 
"Then, when I was on Soccer Saturday, I was finding it hard to focus. People were noticing that things were different about me, and my memory was going downhill. My wife told me to get looked at. I went for my first scan and they stopped it after two or three minutes – I knew something was a bit sinister. I went on a wander around the hospital; I was very confused and on my own. Somebody found me eventually. The pain inside my head was something I wouldn't wish on anybody.  
"I actually I never got the all-clear. This is what people keep saying to me, but it's wrong. When you've got a brain tumour, which I have, it's sadly just not the reality. I normally don't want to pull people up on it, but the reality is that this cancer can come back at any point. So, I'm determined to live my life to the full. If I want to go for a beer with my mates, then I do – but I have to be careful to get the balance right. That's something that took me a really long time to come to terms with. I've had to re-learn so much in my life."
After discovering he had a brain tumour, Matteo went on a search for his birth mother, Margaret, who'd given him up for adoption. Mother and son were reunited on TV, with Matteo explaining the relationship has certainly helped him to stay positive while fighting the brain tumour.
"I've had some tough times over the last few years, so it's much nicer to be in this position now, and to be happy. It's been an emotional rollercoaster, but I'm really glad we've found one another and we're making up for lost time. You have to stick together as a family. That's the most important thing in dark periods like this. 
"It's been a bit crazy I suppose, but I've been very fortunate to play football and represent some great clubs. It's been a privilege to play professional football at any level. Securing promotion at Stoke, and as the captain, was a real highlight for me, as well as my time at Liverpool and Leeds. I've a lot to be thankful for. 
"But I'd especially like to thank the football world for coming together in support of me and my family when I got poorly – messages off everyone from King Kenny [Dalglish] to all the fans who were there for me and the Players from every club I was at."