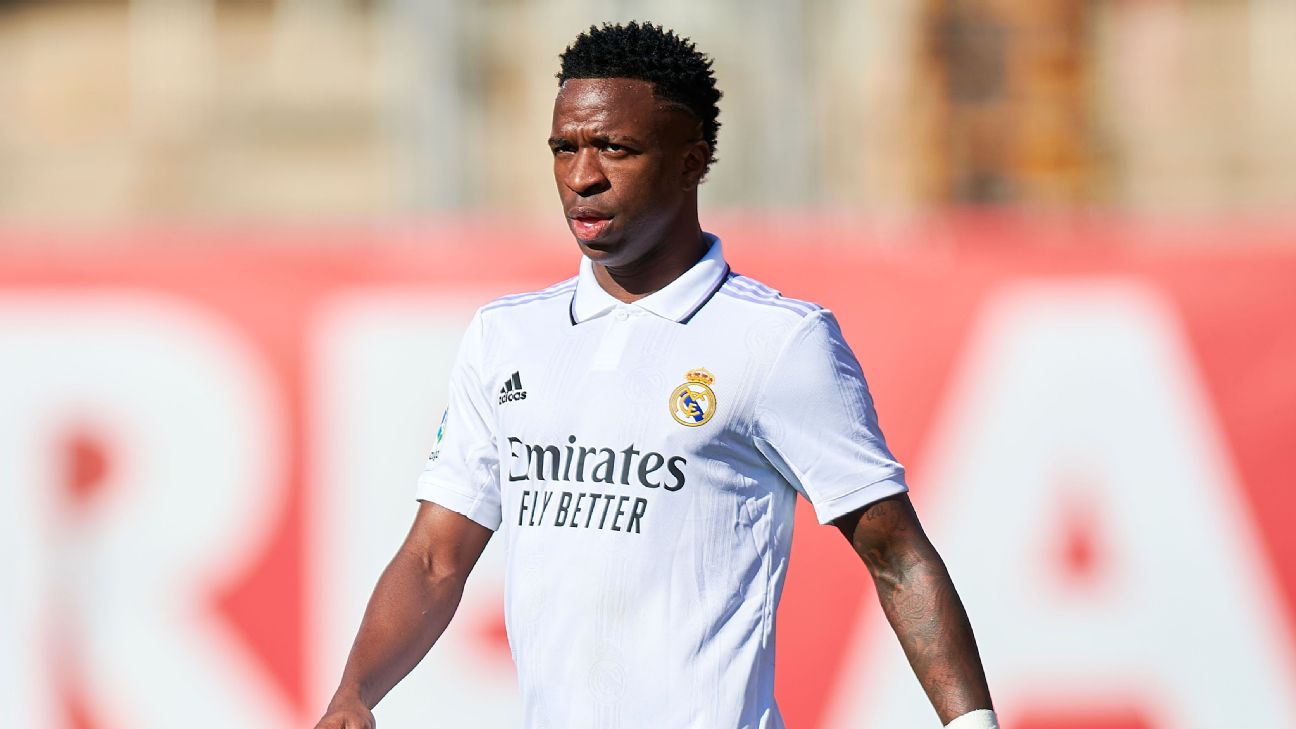 Real Madrid midfielder Toni Kroos has said he believes red-hot Vinicius Junior will lead the team's attack for many years to come.
Vinicius, 22, scored twice, set up another goal and was voted UEFA's player of the match in Madrid's come-from-behind 5-2 win at Liverpool in the Champions League round of 16 first leg.
- Stream on ESPN+: LaLiga, Bundesliga, more (U.S.)
Asked if Vinicius can remain a flagship player in Madrid's attack for many years, Kroos told ESPN: "Without a doubt. He hasn't reached his limit. There are things he can still do better but what he gives us is already a lot."
The Brazil international has scored 18 goals this season, including six in seven Champions League games, and set up seven more.
Vinicius, who scored the winner in Madrid's 1-0 victory against Liverpool in last season's Champions League final in Paris, showed his talent in his opener at Anfield.
"When we were 2-0 down and were suffering, his first goal meant a lot," Kroos said. "He did it all himself, within a limited space, he was against two or three Players and then he took that shot. That [goal] gave us life to the whole team. It was an individual play which means that he can do that and, depending on how he is, in the future, he is going to be among the best Players in the world."
Despite the sensational form for Vinicius, Madrid coach Ancelotti believes he can play even better.
"Right now, he has to keep going, to improve, because I think he can improve," Ancelotti told ESPN. "We don't know how long he will stay here. I think he can follow the legendary Players that are here, [Luka] Modric, [Toni] Kroos or [Karim] Benzema. This is the way."
Vinicius is set to lead Madrid's attack in Saturday's league derby against Atletico Madrid.
Atletico coach Diego Simeone, whose side have lost twice this season against Madrid, both in LaLiga and the Copa del Rey, is not surprised by Vinicius' rise.
"His growth has been enormous," Simeone said. "They have placed a lot of confidence in him. He has improved year after year. He is going through an extraordinary moment."
Madrid goalkeeper Thibaut Courtois, meanwhile, believes the abuse Vinicius has been subjected to by opposing fans throughout this season has only made him stronger.
LaLiga has filed a total of eight complaints regarding insults or racist chants directed at Vinicius, including one last month ahead of the Copa del Rey quarterfinal against Atletico when a Vinicius shirt was draped over a mannequin that was hung from a bridge outside Madrid's training ground.
"He's been able to focus after all the insults, and perhaps that has made him stronger," Courtois told ESPN. "Before it would take him a little bit out of his game but now, he's reached a point where he is focused on the games. This is the Vinicius we need to win.
"The Vinicius that we saw in Anfield is the Vinicius we need in every game."
Madrid go into Saturday's game second in LaLiga, eight points adrift of league leaders Barca, who visit Almeria on Sunday.
"We need to keep winning to put pressure on Barca," Courtois said. "Both teams needs the points."
Ancelotti added: "It's a derby, it's special. There will be contact, the intensity of the game will be high but there will be fair play. "
Madrid have recovered French midfielder Aurelien Tchouameni, who missed the last two games with flu.
However, Los Blancos confirmed defender David Alaba and forward Rodrygo will face spells on the sidelines.
Both Players got hurt in the midweek win at Liverpool.
Alaba is ruled out with a hamstring injury and will face a race against time to be fit for the return leg against Liverpool on March 15 while Rodrygo sustained a muscular problem in his left leg and is expected to be out of action for 10 days.
After Saturday's derby, Madrid host Barcelona in the Copa del Rey semifinal first leg on Thursday.