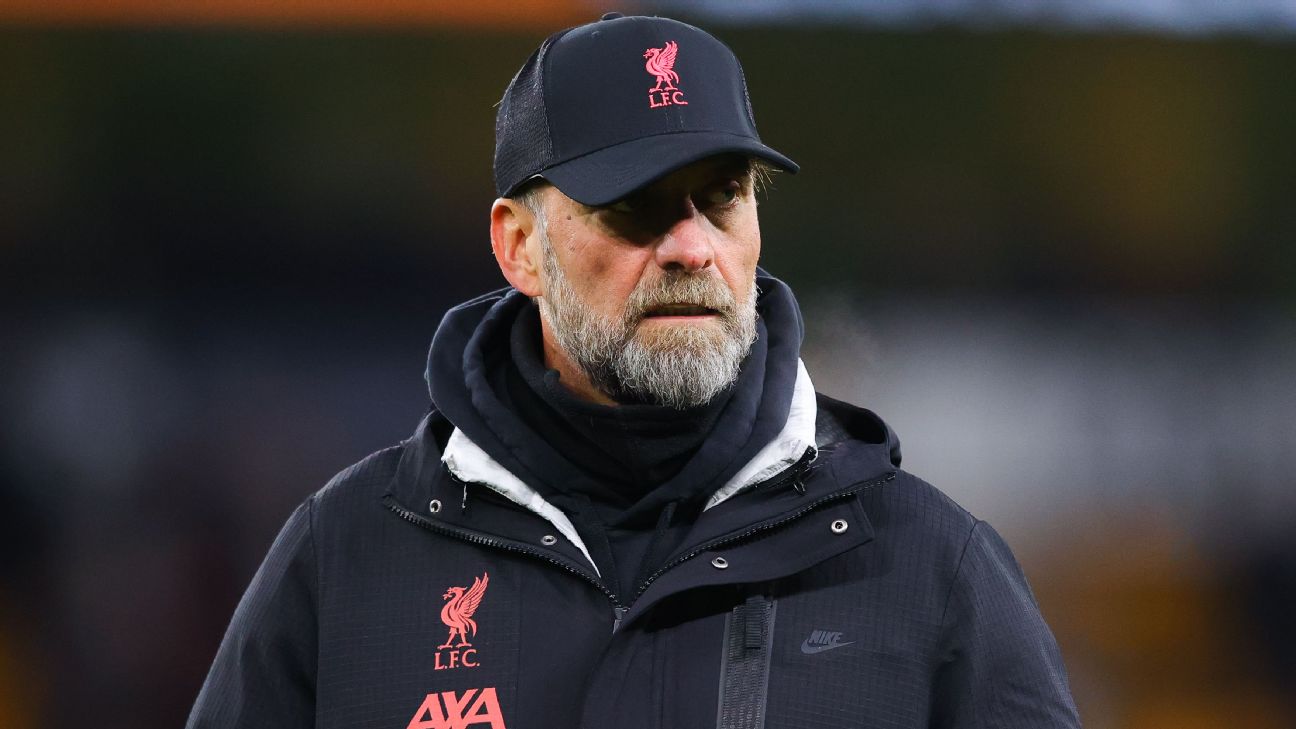 Jurgen Klopp has said he is "not afraid" of being sacked by Liverpool amid the club's disappointing season and the mass exodus of Premier League managers.
The Merseyside club slipped to eighth in the Premier League after suffering their third consecutive defeat with a 4-1 hammering against Manchester City on Saturday. Klopp's side also exited the Champions League at the hands of holders Real Madrid in the round-of-16 in March.
- Stream on ESPN+: LaLiga, Bundesliga, more (U.S.)
Following the departures of Tottenham Hotspur boss Antonio Conte, Graham Potter at Chelsea and Brendan Rodgers at Leicester City, Klopp said there is "no need for being afraid" of being removed from his post, but acknowledged his side have fallen below their standards this season.
"I'm aware of the fact that I am sitting here because of the past, not because of what we did this season," he told a news conference on Monday. "We have smart owners -- they know about the situation. If this was my first season, it would be slightly different.
"I'm not afraid [of the sack], no. There's no need for being afraid, I need to deliver. I am not here as a mural on house walls, I am here to deliver.
"I am fully in -- but we have to sort this. We cannot just continue playing how we do from time to time. I am really disappointed about us that we do this but it happens. We have to find a way out.
"What can I say about that [the sackings]? The elephant in the room is probably why am I still sitting here in this crazy world? Last man standing."
The departures of Potter, Conte and Rodgers meant a record 12 managers have been sacked in England's top-flight this season.
Klopp said the number of manager dismissals is "awful," but added that it is "part of the business."
"I think both clubs are not in the spots where they expect to be," he said. "I can not really say a lot more about it. Let's say I know them well, I respect them a lot. I like both.
"When I met them they were really really good people and fantastic managers both of them. But still things can go the wrong way and then decision-makers at the club think they have to change and they change.
"We all accept that part of the business and that's it pretty much. But that's it, its a strange week I would say."
Liverpool face managerless Chelsea on Tuesday before hosting league leaders Arsenal on Sunday.