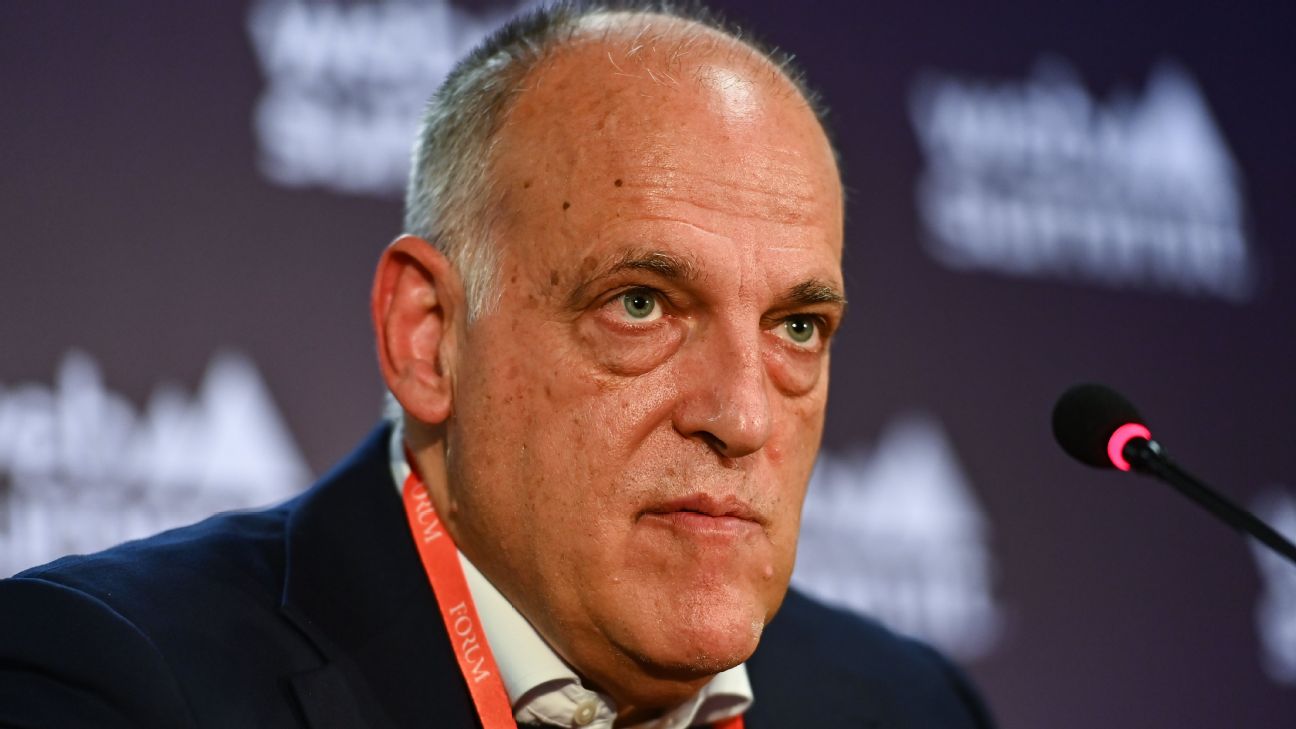 Barcelona have called for LaLiga president Javier Tebas to resign after it was alleged he provided false evidence against them.
La Vanguardia reported Monday that Tebas handed over documents to prosecutors which attempted to incriminate Barca and two former club presidents as part of the investigation into payments made to the former vice president of the refereeing committee in Spain.
However, according to the report, the documents were part of another case, not linked to ex-Barca presidents Sandro Rosell or Josep Maria Bartomeu and were decades old.
Tebas responded on Twitter by saying that the title of the article was "false," he did not "specifically accuse anyone" of anything and accusing the journalist of "slander."
However, Barca replied later on Monday demanding a deeper explanation from Tebas, expressing their "deep anger, indignation and disgust" and demanding his resignation.
"Barcelona, as president Joan Laporta has said in recent weeks, feel the victim of a media lynching based on events that have never occurred: Barca have never bought referees," a statement said.
"It is not the first time the president of LaLiga has used his media machinery to attack Barcelona but, aside from his usual nonsense, we could never have imagined he would have hoped to incriminate our club with false evidence.
"The news published by La Vanguardia is of such severity that it should alert all LaLiga clubs, as they are practices that should have no place in the functions attributed to the president of LaLiga. For this reason alone, but also out of dignity and respect for the presidency of LaLiga, Mr. Tebas should resign from his position.
"However, knowing his obsession with persecuting Barcelona and constantly showing his aversion and antipathy towards our club, we understand that he will persist in his behaviour of continuing to harm our club."
Following charges alleged by prosecutors, a Spanish court is currently investigating payments worth over €7 million Barca made to Jose Maria Enriquez Negreira, the former vice president of the refereeing committee, between 2001 and 2018.
ESPN later had access to a letter which Tebas sent to La Vanguardia demanding a full rectification. He said if the Barcelona-based newspaper did not do so within "the period and in manner indicated," LaLiga would seek legal action.
Tebas has called the scandal the "biggest reputational crisis" in the history of Spanish football, while UEFA have also launched their own investigation into the payments.
Speaking Monday, UEFA president Aleksander Ceferin called the matter "one of the most serious issues" he can remember in the game.
Barca have always denied any wrongdoing, insisting the payments were made for regular "technical reports into refereeing" and not to buy officials or influence.
Laporta plans to offer an explanation in a news conference when an internal investigation into the payments and the relationship with Negreira concludes.
Tebas and Barca have clashed frequently in recent years.
They are at odds over the CVC deal which saw an injection of cash into LaLiga clubs in exchange for a percentage of future television rights -- Real Madrid and Athletic Club Bilbao also withdrew from the agreement -- and have also feuded over the European Super League.