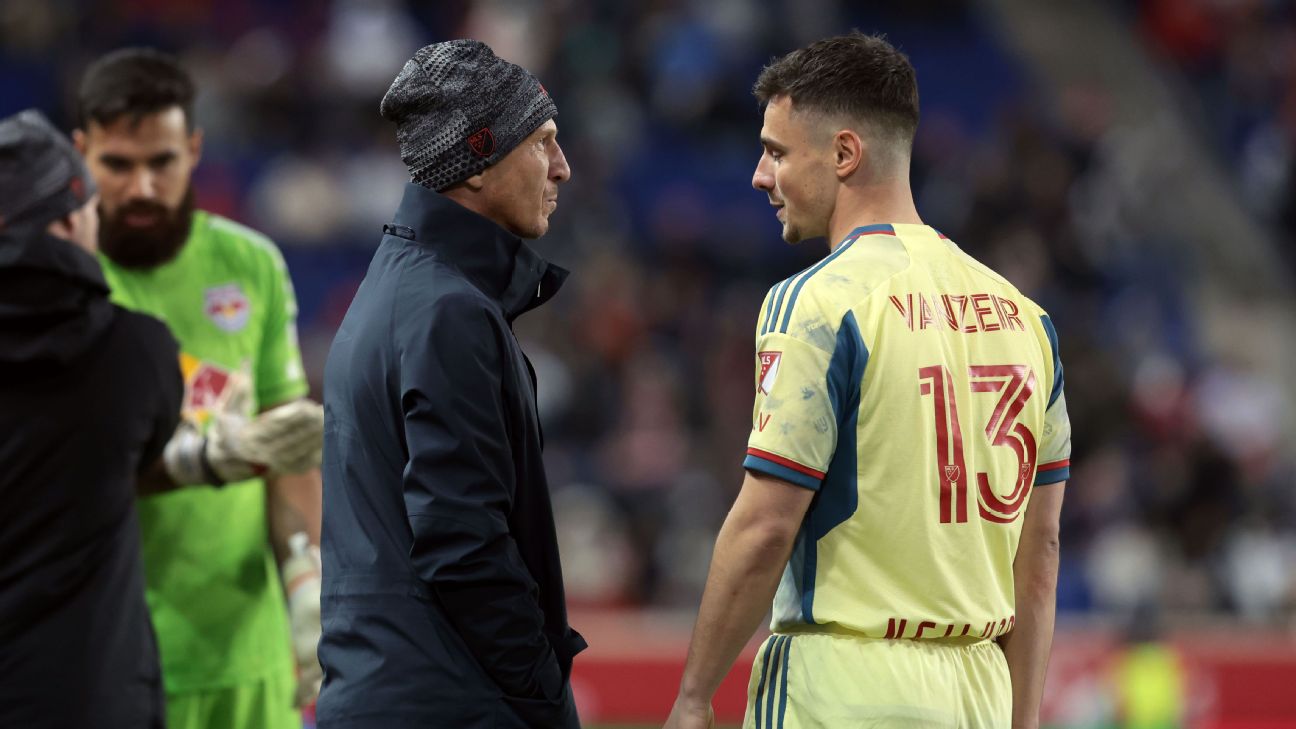 The New York Red Bulls organization and its forward Dante Vanzeir apologized to the San Jose Earthquakes for an incident that occurred in their game Saturday night in which Jeremy Ebobisse said a racial slur was directed at him.
"The New York Red Bulls wholeheartedly apologize for the unacceptable events that transpired on Saturday night during the match with the San Jose Earthquakes," the club said in a statement on Monday. "The words and inaction was inexcusable, and we believe there is never a place for it."
Vanzeir, a Belgium international who just joined the Red Bulls this season, also apologized and said he would accept whatever fine or ban Major League Soccer handed him.
"I want to sincerely apologize to the Players of the Earthquakes," Vanzeir said. "I will do everything I can to be part of the change that needs to happen in this sport and our world. I also want to apologize to my teammates, coaches, the organization and our fans. I made a mistake and will take all the necessary steps to grow. 
"I accept full responsibility for my actions. While I did not intend to cause any harm or offense with my language, I know that I did and for that I am deeply sorry. I will agree to any suspension, fine and counseling that is handed down by Major League Soccer and the club.
"I will use this opportunity to better myself, reflect and dedicate my time and efforts to work with organizations that tackle racial injustice."
Vanzeir made the comment to Ebobisse in the 54th minute and video replays show the Earthquakes' striker react angrily before the two Players are separated. Ebobisse said San Jose continued to play because Vanzeir said his remark was not directed toward anyone in particular.
"What is important for me to share is that I know what I heard and the reason why I felt, after a lengthy conversation, we should continue with the game is because the player who said the word claimed it was not aimed at any of us," Ebobisse said after the match on Saturday.
Vanzeir was left in the game, which included 21 minutes of stoppage time before ending in a 1-1 draw, and manager Gerhard Struber expressed regret for not acting more quickly to bring in a substitute for the 24-year-old.
"During our match on Saturday, I made a decision that I thought was best given the information I had at that moment," Struber said. "While there was a lot of uncertainty at the time, with the information that I now know, the right decision would have been to immediately remove Dante Vanzeir from the game."
MLS announced on Sunday that it was conducting an investigation into the incident and that further information would be provided upon completion of that investigation.